Do you have plenty of books?
Or simply just wants to make something new?
Follow the simple steps below to make a beautiful frame
(Oh, no! Not your
antique
book!)
Mangler du ramme, men har masser av bøker?
Gjør som meg, lag rammer av bøkene:-)
"Frøken tankeløs". Ja, det er hun som må til pers.
En passende tittel når jeg er i ferd med å skjære i en bok!
Jeg har lært at det å ødelegge bøker er forbundet med ondskap...
Men å ta vare på bøker via redesign...?
Det må vel være bra?

Well, I've always learned that destroying a book is a sign of evil...
But If I make something new, and beautiful, from the book, you think I might be forgiven?
Jeg tok sjansen og skar ut
en passe stor firkant,
passe dypt ned i boka,
om den tankeløse frøkna.
Det er viktig med en passe stor linjal,
en passe tydelig strek,
en passe skarp kniv,
og en passe stor slump med tålmodighet
(så du ikke skjærer deg...!)
Start with finding the old book you'd like to transform into a frame. Measure and draw your frame opening using a ruler. Then use a cutting knife (careful!) to cut your way down the front cover, and a bunch of pages. Little by little is the best way to avoid ugly edges, and to avoid cutting your self. When you think your frame is deep enough, move on to the next step.
Når skjæringen er ferdig er det viktig å maskere de verdifulle delene av boken.
For min del syns jeg det var viktig å ta vare på bokryggen,
sidekantene, og innholdet i rammefordypningen
(kantene der du har skåret).
På bildet til venstre har jeg maskert hele fordypningen,
til høyre har jeg maskert bare den nederste siden i fordypningen,
slik at innerkanten også har blitt malt.
Then it's time to paint your book/frame. Use masking tape to cover the areas you'd like to preserve. I masked up the spine of the book, and the opening to the areas cut out of the pages. I like the visibility of the pages that are cut. But I actually tried the other variant as well; covering up the first page NOT cut in the book, which means the edges of the cut pages are painted.
Glasset fester du med maskeringstape på første side i boken,
altså rett etter bokcoveret.
Opphenget har jeg kjøpt på jernvare/krimskramsbutikk,
festet med en bit dobbeltsidig putetape,
og tapet over med maskeringstape.
Dermed er det bare å prøvehenge bildet på veggen, slik jeg har gjort til høyre.
It's time to mount the glass. I did it simply by attaching the glass over the first page using several layers of masking tape. You can also attach it to the back of the front cover, which I did with the second book. I would recommend the second option.
When the glass is securely attached, you need a mount if you want to hang your frame on the wall. I used a prefabricated mount I've bought at a hardware store. I glued it to the back, after finding the very center point of the books gravity. You can use a ruler and simply measure the middle, but be aware that some books is heavier at one end compared to the other. It's therefore recommendable to grab the book with two fingers at the top, trying to find the center that way.
For å lukke rammen har jeg festet slikebånd på innsiden av bokcoveret på hver side,
og så er det bare å knyte en liten sløyfe, en knute,
eller noe annet som passer rammen.
Man kan også bruke smykkeskrinlås, feks en liten hengsel eller krok.
Da er rammen ferdig!
Nå gjenstår bare å putte noe dekorativt i rammen,
og henge det på veggen!
To close the frame, I've used two short pieces of silk ribbon, which I glued to the inside of the front and the back cover. I then simply tied the book together with a simple bow tie.
You can also use a small hook or beautiful locks used for jewelry boxes, to close your frame.
When all this is done, your new frame is done!
All that's left is to find something beautiful you want to display, mount it in the frame, and hang your new artwork on your wall.
Så enkelt var det! Heng, stable, still,
eller sett rammene der du vil!
Tips!
Om du løsner slikebåndet kan rammen stå
både på høykant og på langsiden ved at du "åpner boken"!
Tip!
If you untie the ribbon, you can open the book just a little to make your frame stand safely.
Made something beautiful from a book?
Show it off by su
bm
ittin
g your link below!
This DIY was featured at: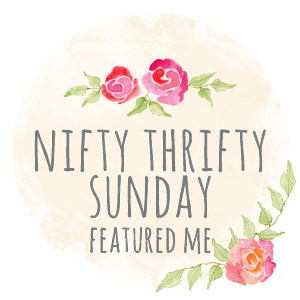 (First published: 08/29-2011. Updated: January 6th 2013)